To Our Campus Community: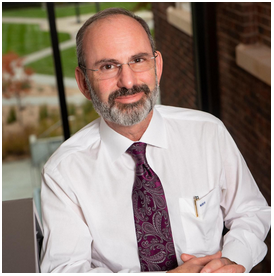 We continue to show great strength as a campus community, united in protecting the health and well-being of one another. Last week's surveillance testing revealed that we are sustaining a low COVID-19 positivity rate of 0.9% compared to numbers that remain much higher and on the increase all around us. At the same time, our dedication to advancing a culture of equity for all members of our KCU community remains of the highest priority. Ongoing efforts to foster greater understanding of our beliefs and differences and educate one another about the experiences and issues that impact us as individuals are important steps towards our goal of becoming a more inclusive and compassionate campus community.
I'm grateful to each and every one of you for the commitment you've shown to work together during this time of unprecedented challenge, and I am proud of our collective resolve to keep our KCU family safe.
I believe the days and weeks ahead are likely to test this resolve to even greater lengths. We face the devastation of a global pandemic that is gaining traction by the hour; an upcoming national election with the potential to sow even deeper divide and foment more widespread civil unrest throughout our country; and persistent economic strain that is causing suffering for a growing number of our citizens.
During this time of great uncertainty and upheaval, it is more important than ever that we remain united and insist that civility, decency and compassion drive our behaviors toward one another — regardless of our individual differences, and in spite of what may be taking place outside of our campus community.
I encourage all of us to remain true to our institution's core values and remind ourselves of how we can best live those values in our daily interactions.
INTEGRITY: Demonstrating respect, honesty and professionalism.
COMPASSION: Caring for students, patients, colleagues and all humanity.
EXCELLENCE: Achieving quality in all that we do.
COLLABORATION: Working with others to recognize diverse perspectives and achieve mutual goals.
INTELLECTUAL CURIOSITY: Pursuing personal and professional growth.
INNOVATION: Embracing new practices to improve outcomes.
HERITAGE: Remaining true to our Midwestern values and the guiding principles of osteopathic medicine.
Always make our mission of "improving the well-being of the communities we serve" – including that of our own KCU community – the ultimate goal against which to measure our actions.

Remember our ongoing pursuit of becoming One University — an institution that is of all and for all — inclusive of our differing opinions, expressions, perspectives and even the geography of our campuses.
Above all, remain hopeful. We are blessed to be part of a university community that has been able to weather these storms far better than many. I am confident we will continue to do so and emerge better and even more resilient.
I'm honored to be the president of this great university and appreciate the confidence you've shown in our leadership team during these particularly trying times. Thank you again for everything you do for KCU.
As individuals and a university community, let's continue to stand together and stand strong.
Yours Truly,




Marc B. Hahn, DO
President and Chief Executive Officer