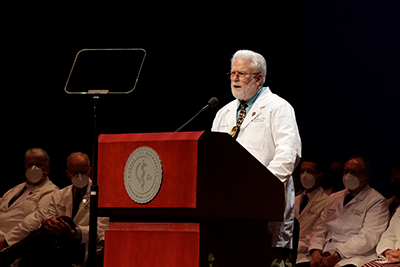 KCU is pleased to announce the appointment of Rex Archer, MD, MPH, as Professor and Director of Population and Public Health for Kansas City University College of Osteopathic Medicine's Department of Curriculum and Integrated Learning beginning Aug. 2, 2021. Dr. Archer is a native of Kansas City and has led the city's health department for the past 23 years.
Dr. Archer helped guide Kansas City through the COVID-19 pandemic for the past year and a half, as the city has gone through mask mandates, a stay-at-home order and business restrictions. His collaboration with the university provided KCU students with the opportunity to contribute to vaccination distribution solutions throughout the communities in the Kansas City and Joplin regions.
Under Dr. Archer's leadership, the Kansas City, Missouri, Health Department is, to date, the only health department in the country to win the National Association of County and City Health Official's Local Health Department of the Year award more than once. It is also one of a handful to have both earned national reaccreditation from the Public Health Accreditation Board and led its community to a Robert Wood Johnson Foundation's Culture of Health Prize. Seven hundred forty peer local health departments ranked the Kansas City Health Department among the top five local health departments in the nation serving as a model for new public health programs, evidence-based practices, and policies intended to improve community health.
Dr. Archer also serves as chairperson for the international Public Health Accreditation Board and is a member of the Council on Linkages Between Academia and Public Health Practice.
In his new role, Dr. Archer will collaborate within and across KCU academic programs to integrate public health education into the preclinical curriculum and create clinical clerkship experiences for COM students. His passion for improving public health outcomes and addressing disparities in the health care system aligns well with KCU's mission "to improve the well-being of the communities we serve."
Dr. Archer completed his medical degree at the University of Kansas and his General Preventive Medicine Public Health Residency and Master of Public Health at the University of Michigan.