A Win For All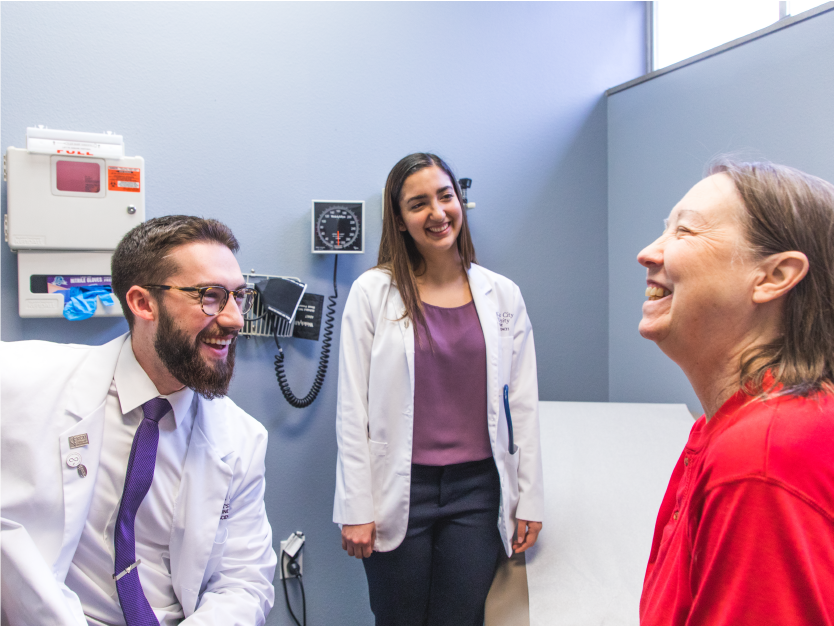 A new community clinic partnership is opening doors for Joplin medical students and uninsured patients.
---
The Community Clinic of Southwest Missouri is bustling with activity on a Thursday evening. Multiple pairs of KCU-Joplin medical students file into patient rooms, clipboards in hand, to take turns triaging patients, recording medical histories and performing physical examinations.
For these students, this is their first interaction with a real patient. Up to this point, they have practiced their examination skills with standardized patients — actors portraying a person with a medical condition.
Meanwhile, KCU-Joplin faculty members Robert Arnce, DO, assistant professor of clinical medicine, and Ken Stewart, DO, assistant professor of Emergency Medicine, wait for each pair of students to emerge from a patient's room and then carefully listen as each medical student presents his or her findings.
Faculty members then examine the patient and explain the treatment plan as medical students observe, giving them the opportunity to learn by seeing the physicians' clinical decision-making processes. "It has been really helpful to talk with them to see how they process information from patients and hear the questions they ask to help narrow down what the issue might be," said Courtney McClure, OMSII.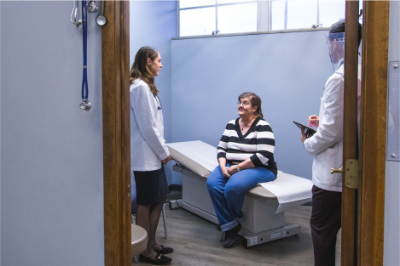 Throughout the evening, the students also work alongside Community Clinic of Southwest Missouri nurses, social workers, pharmacy staff and a registered medical assistant, which helps the students learn how to work as part of a health care team.
KCU-Joplin partnered with the Community Clinic to create this innovative program that has a two-fold purpose. The Thursday evening clinics provide valuable early clinical experiences for second-year medical students while expanding access to health care for community members who need it most—those who are uninsured.
"It's beautifully synergistic," noted Arnce. "On one hand, you have the working poor, who don't meet the criteria for Medicaid and have limited access to health care. Their alternative would be to go to the emergency room or urgent care. On the other hand, you have students who get firsthand experience caring for patients under the supervision of attending physicians. They get to actively create assessments and plans."
The Community Clinic is not new to the Joplin area. It has served the community for more than 25 years, completing more than 140,000 patient visits during that time. This unique partnership with KCU allows the Community Clinic to be open most Thursday evenings to serve patients, in addition to the clinic's daytime hours.
"The KCU clinics that we're having in the evenings have really been a game-changer for the clinic," said Stephanie Brady, executive director. "They have added another level of care that we're able to provide.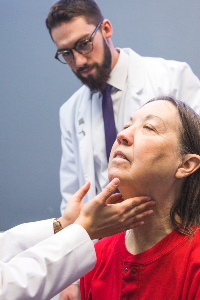 "For many years, we haven't been offering evening clinics, except for specialty clinics. This allows our patients to have more options for when they can come to the clinic," said Brady. "It also allows us to have a solid partnership with a huge community leader — we're able to work with them and help in the education of future doctors. It has been impactful for our community and for the Community Clinic as a whole."
This clinical experience program also helps remind students why they were motivated to pursue a career in the medical field — to serve others. At the Community Clinic, 100 percent of the patients lack health insurance, 80 percent of those patients are part of the working poor, 10 percent are undocumented and 10 percent are chronically homeless.
"Some of the patients haven't seen a doctor in a long time and may have a lot of health concerns," added McClure. "It's great to see how helpful the program is to the community and how it's fulfilling a need. These patients don't have to miss work because they can come to the night sessions."
Following the clinical experience, the learning opportunities continue with a weekly debriefing session, where students choose a medical case to present to their peers and discuss. After the discussion, faculty members teach the students about a common health concern that the students might see in the clinic, such as high blood pressure, urinary tract infections or headaches.
"Medical school is an arduous journey, and many times students feel buried in their books," said Arnce. "Through this program, they get to provide patient care early in their medical career. This is what they want to do and this is why they came to medical school," he explained. "It is motivating for them —they go back to class and think about patients they saw. It gives them motivation to pursue the prize at the end of their training."