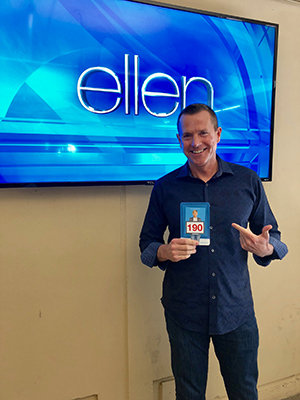 KCU alumnus Dr. Ron Holt is used to traveling the country, mentoring people and speaking with members of the LGBTQ community. But on Jan. 4, he received a call inviting him to Los Angeles to be a special guest at the "Ellen DeGeneres Show."
DeGeneres will celebrate her 60th birthday on her show with two episodes this Thursday and Friday. The audience will be made up of 300 guests hand-picked by the producers for bettering their communities, including Dr. Holt.
"It was an amazing opportunity and experience to meet such outstanding advocates in the audience who are doing great deeds across North America," Holt said.
Holt is a board-certified psychiatrist, motivational speaker and best-selling author of the Amazon e-book, PRIDE: You Can't Heal If You're Hiding from Yourself. He devotes much of his time speaking to groups, including future physicians, about providing the best care for the LGBTQ community.
"A lot of LGBTQ people will avoid or delay seeing a doctor for fear of not being welcomed," Dr. Holt said. LGBTQ youth and adults are at higher risk for mental and physical health disparities due to discrimination, prejudice, victimization and rejection.
"As physicians, it is important to create and demonstrate an inclusive and accepting clinic environment, so the LGBTQ community feels comfortable coming in to receive the care they need and desire." Dr. Holt said.
How did he score the invitation to such a fun celebration? Last year, Holt submitted a synopsis of his community service work to the Ellen show for their "One Million Acts of Good" campaign.
"The energy from the audience before and during the taping was lively, palpable and extremely exciting." Holt added.
As the sponsor of the "One Million Acts of Good" campaign, Cheerios donated $1 million to be evenly distributed among the audience. Each person will get roughly $3,300. Holt plans to use the money to give out free copies of his book.
"It was fun seeing the wide range of celebrities that made appearances for her birthday celebration." Dr. Holt said. "I loved the whole experience."