Deron Cherry Helps Score 1 To Keep Winning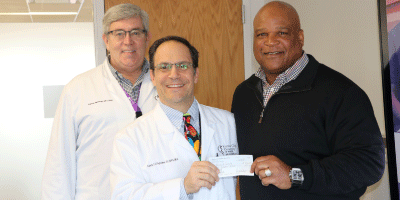 Former NFL and Kansas City Chiefs safety Deron Cherry presented KCU with a check in the amount of $70,000 in support of Score 1 for Health. A KCU flagship program now in its 25th year, Score 1 supports medical education and children's health in the Kansas City area and, now, also in the Joplin area through our campus there.
Annually, more than 520 first- and second-year students participate in the program providing health care screenings to over 12,000 children at 39 schools in the Kansas City area. KCU is one of three beneficiaries that the Deron Cherry Charitable Foundation supports via funds raised through Cherry's annual golf tournament.