Felicia Vaught
Digital and Social Media Program Manager

Digital and Social Media Program Manager Felicia Vaught joined the KCU-University Relations team in July of 2022. As the former Digital Media Manager at Nexstar Broadcasting's KSN 16 and KODE 12 news stations in Joplin, Missouri, she acquired 13 years of experience in broadcast journalism and digital advertising. She won the Kansas Association of Broadcasters Station Website Award in 2020. Felicia is a Joplin native and graduated from Missouri Southern State University with a Bachelor of Science Mass Communications degree with the distinction Magna Cum Laude. Currently, she attends Pittsburg State University for her Master of Business Administration degree. If you wish to reach out to her, please email her at fvaught@kansascity.edu.
Recent Blog Posts By Felicia Vaught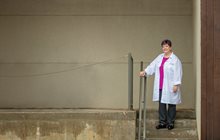 The Science of Solved: A Breathless Pursuit
Investigators originally thought an extreme asthma attack caused a 21-year-old woman's death, but the persistence of a future KCU faculty member proved otherwise and brought justice to a Virginia murder victim.